How can I Find Finance for My E-commerce Business?
With an e-commerce business, you have the whole world as your potential marketplace, but you face challenges that are unique to the online sphere. To succeed, you'll need fast access to funding options to grow your business.
The importance of money in business is obvious. Whether you want to increase your sales, expand the scope of your product, or grow on a global scale, growth funds can help you get there.
Growth means you need to gain traction, iterate, and ideally scale those successes over time. When you're ready to go from one channel to multiple channels, you have to be prepared to take on additional costs.
You will need upfront or additional investment for more store inventory, for marketing, and for advertising.
But if you don't have a strong and steady cash flow, you won't be able to do this.
Money to Grow
Your main priority as an online seller is clear: grow your business. Having access to capital is not only about covering general expenses, but it is what takes your e-commerce business to the next level.
Inventory.

Access to working capital can help you get more inventory and negotiate better inventory costs. Especially with ongoing supply chain challenges, inventory management is more important than ever.

Marketing.

To drive business, you need to invest in marketing and advertising. From PPC ads to Facebook, YouTube and more, marketing is critical to drive business, but it can be expensive.

Cash flow management.

Your incoming revenue simply might not be enough or might not arrive in time to invest in business growth. Even if your business is in good financial shape, you may still struggle with cash flow.

New sales channel.

Perhaps you want to open up a new sales channel. You should consider partnering with marketplaces such as Amazon or Walmart. Making products available in more locations will drive more sales, but opening new marketplaces requires upfront investment.
Traditional Lenders
E-commerce companies have unique data points that aren't taken into account by traditional lenders like banks or credit unions. This results in inferior loan amounts and low approval rates that don't reflect the potential and health of e-commerce businesses.
Banks generally favor asset-based funding, which means that they look at what assets a company has before they lend. This doesn't make sense for an e-commerce business, where the majority of their cash will be tied up in inventory, and they will be short on liquid assets.
Traditional loans are reserved for low-risk businesses. Even if they do offer credit, they can easily take weeks to grant a loan to an e-commerce business – if it happens at all.
Banks are typically more cautious than other specialized lenders and require a lot more documentation and due diligence. Because you most likely don't have predictable cash flows and significant physical assets, they will require collateral.
Investors
Investors generally take a stake in the business in exchange for the cash investment. This means they take an ownership percentage and a seat at the table in setting the direction of the business.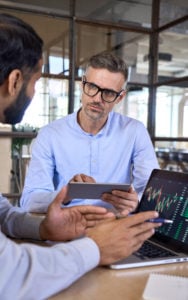 This could be a challenge depending on your business structure and where you want your business to go. What's more, most investors want to invest in something new and innovative and will expect the company to hit aggressive growth goals following investment.
All investment comes with strings attached. Investors may want to be part of the decision-making process or could require that they sign off on any new strategy.
At a minimum, you will need to report to an investor and keep them up to date on business decisions.
Before accepting outside investments, you should make sure your investors' expectations are in line with your projections and capabilities. If your goals aren't aligned, or the investor wants you to hit impossible growth goals, you should look for business financing elsewhere.
Expert Finance for E-commerce Platforms
Most e-commerce businesses prefer to work with lenders that specialize in finance for e-commerce instead of traditional business loans. Specialized e-commerce lenders have opened their doors to businesses that likely wouldn't find the right solution anywhere else.
Expert e-commerce platforms can provide you with a handful of financing options designed specifically for online businesses. Unlike other types of finance for e-commerce, it involves relatively few documents and only takes a few minutes to apply.
These providers judge your business based on your potential, with online sales, digital footprint, and performance being the key underwriting metrics.
For businesses that need to move or change quickly and get a quick cash injection, these platforms are ideal. By allowing you to go from application to approval in a matter of hours can be the difference between exponential growth and stagnation.
At Yardline, we offer a specific solution to finance for e-commerce businesses that solve their unique challenges. Whether you are experiencing cash flow problems or just are looking to take advantage of potential growth opportunities, we can help.
We provide a capital advance that helps you grow your business by giving you access to the capital you need. Get in touch with us today to learn more.