Growth capital e-commerce lenders have stepped in to fill the gaps in the lending industry. These e-commerce financing services are entirely dedicated to the specific needs of e-commerce businesses. They overcome the barriers that other lending institutions put up and provide the flexibility, approvals, and total financing necessary for small- and medium-sized e-commerce businesses to rise to the next level. Unlike VCs, they don't ask for equity, so your ownership structure remains intact. And unlike traditional banks, they don't charge interest rates that continue to compound over time, so you know exactly what you owe.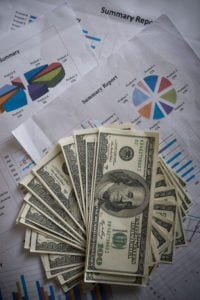 Growth capital e-commerce lenders will typically charge a fixed fee for their services on top of the financing amount. Then, they take a percentage of revenue until the loan is paid back in full. This type of structure enables companies to pay as they go. The expense of the loan payments is well-aligned with the revenue stream, so owners don't have to worry about whether or not they can make the payments when they come up.
Acceptance rates are also much higher as many of these lenders are funded by investors, not just traditional institutions. That means they can be more flexible in their requirements when determining eligibility. Leading e-commerce financing lenders in this space are also focused on getting quicker approvals so businesses can get the funds they need in as little as 48 hours.
E-commerce continues to be a fast-paced, rapid-growth industry, and the pandemic has only revved up the excitement that surrounds it. Total online spending in May 2020 equaled $82.5 billion—a 77% year-over-year increase. So, it makes sense for the e-commerce financing sector to grow as well. The good news is that while small- to medium-sized businesses have struggled to secure funding in years past, new options are emerging specifically for e-commerce companies that help overcome the hurdles of previous years.