Outgrowing Shopify: How to Expand your eCommerce Business
Shopify is one of the most popular eCommerce platforms in the world. It currently has a 32% market share in the US, compared to similar platforms like WooCommerce and Wix stores. Despite this, many online sellers struggle to scale with the Shopify platform.
Shopify is a great first step for many sellers, as it handles a large portion of the set-up of an online store. The platform facilitates the checkout process, payments, inventory management and helps to build your storefront. However, this lack of control can present challenges for a seasoned eCommerce company.
After a certain point, it might be time for you to move on if you feel as though your business is outgrowing Shopify and it's platform. However, as a Shopify seller, it can be difficult to know where to begin on your growth journey. Here's how you can expand your eCommerce business for the future.
Are you Outgrowing Shopify?
Firstly, you need to know whether you are outgrowing Shopify, or just haven't made the most of its' features yet. As mentioned, the platform itself is great for online sellers that are new to the space.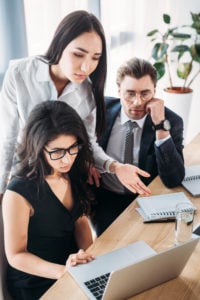 It helps with the basic management of your store, storefront, inventory, sales and checkout process.
Ultimately, partnering with Shopify alone may not be enough for your company's goals. Complete autonomy over your business allows you to build the online store that you want, and grow at a pace that suits you. Or, you might want to expand onto another marketplace, to double your reach.
So, how do you know if you're outgrowing Shopify? Why would you want to expand beyond the platform?
Profit:
Your profit margins ultimately give you the capital you need to grow your business, so you need to monitor them closely. It's critical to maintain as much of your sales revenue as possible, to invest further into your business. However, the Shopify platform charges fees, and these must be taken into account for every sale. If Shopify fees are eating into your revenue, for little benefit, you might be outgrowing Shopify.
Branding:
Your store branding carries your brand message across your marketing and advertising platforms. Not only that, but your storefront needs to clearly communicate your brand identity and message. Customers recognize you through your differentiation from other stores. While Shopify templates are more than enough for some sellers, they are limiting. Real control over your brand image is critical to generating brand recognition in your market.
International:
Perhaps you're happy with your positioning in your current market, and are looking to expand overseas. The Shopify platform is tailored for US and UK markets. Their checkout process operates to suit popular payment options in these countries, but not worldwide. Depending on where you're looking to expand, you need a purchase process that can handle taxes, currencies and other languages.
SEO:
Google ranking is important for any business. You need to be at the top of search results that suit your target audience. Your customers need to be able to find you. Unfortunately, Shopify sites don't provide Google with as much "microdata". This means that Google cannot rank your website as easily. With your own eCommerce website, you regain complete control over your SEO efforts.
Security:
Customers are more security conscious than ever before. They are increasingly concerned about the security of their data, especially during online transactions. Not to mention that you need payments to be processed securely to maintain your reputation. Unfortunately, Shopify doesn't offer a dedicated SSL certificate as standard. Many shoppers now know to look out for the HTTPS domain when making purchases online, so a lack of this can impact your completed sales.
What's Next?
If you've only ever used Shopify to manage your online store, you might not know where to begin. The world of eCommerce management can seem daunting. However, controlling your business allows you to manage your growth, and really invest in your business.
DTC
For many Shopify sellers, the natural next step is to open up your own online store. Host your own website, and use your own software to manage the store operations. This method has no limits, and your store can continue to grow.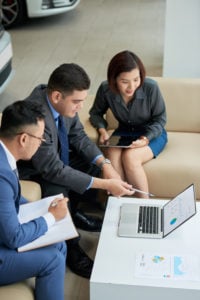 The primary benefit to owning your own DTC store is complete control. You can handle payments, the checkout process, your storefront, and more.
You can utilize your branding to really promote your brand image, and create a website that suits your business. This is what makes your business yours.
You can also decide how to handle payments, inventory management, and other administrative tasks. Ultimately, this gives you complete control over your profit margins. You are not tied to specific marketplace or platform fees.
However, it's important to bear in mind that this is the most expensive option, and requires more growth capital. Unless you know how to code and develop a website from scratch, you will need to hire a specialist to develop your website.
Then, you need to consider the costs of software, licensing, and payment processing. If you've previously used dropshipping, you need to consider whether you can carry your suppliers across, or purchase inventory. There is also the added expense of your time running the business. Ultimately, expanding into a DTC site requires an injection of cash.
Amazon
eCommerce growth can mean expanding onto multiple platforms. You may not be ready to make the move into complete DTC ownership just yet, but still have room for growth. Amazon is the most popular marketplace in the world, and might provide the sales boost you're looking for.
Amazon benefits from a worldwide presence, allowing you to use the platform to access a wider customer base. This includes worldwide shipping, depending on your products. Also, the marketplace's worldwide reputation can help to garner more sales than a standalone website. Consumers trust Amazon.
Amazon's FBA service is also ideal for sellers that face challenges with inventory storage and logistics. The FBA service handles the storage, packing and shipping of your products to your customers. The service is efficient, and customers can liaise with Amazon directly.
However, bear in mind that there is likely to be a lot of competition on Amazon. Your products need to stand out from the crowd. Sellers compete for organic listings. The alternative is to spend on Amazon PPC ads.
Like Shopify, you will need to pay marketplace fees, which cut into your profit margin. Amazon FBA is a paid service. Under FBA, if your products don't move from the warehouse, then you might pay more storage fees.
Also, moving to Amazon may not offer the autonomy that you're looking for. Ultimately, as long a platform is handling a lot of the business management for you, there is a limit to growth. You will need to invest in new logistics and infrastructure to expand on to Amazon. Again, a cash injection is important.
How to Grow
There are some critical benefits to expanding your eCommerce business if you feel you are outgrowing Shopify, for both you and your customer. Hosting your own website, and setting up your own management systems, allows for full transparency about your business. As a result, you can make better business decisions, and expand without limits.
Expanding to Amazon allows you to take advantage of the 197 million monthly users. Amazon is the largest online marketplace in the world, so your customers are likely shopping there.
Wherever you choose to expand, there are some key elements that can help you make the most of your expanding business.
Customer Experience
Your customer experience is one of the most important elements of an eCommerce business. Customers, or lack thereof, can make or break your business. The key to growth is making your customers happy, and encouraging them to return with the best experience possible.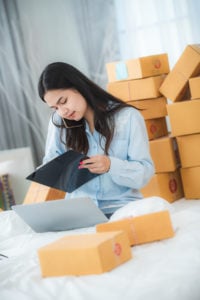 For DTC companies, not only does your website need to provide a positive UX, but so does your checkout process. This is the step in the purchase where you need to secure your customer. Make your checkout process your own, with clear branding, and ensure that the transaction is simple and secure. This promotes confidence and trust for your buyer.
If you choose to expand onto another marketplace, like Amazon, then the marketplace will handle the process for you. However, Amazon is a widely trusted site. Your customers will likely already be familiar with the purchase process. Also, they can bundle your products in with other purchases, ultimately enhancing sales.
Sales Data
Detailed data is critical to the growth of any business, especially eCommerce businesses. Unfortunately, the Shopify platform offers relatively limited data. You get a basic look at your business performance, but you cannot get a full understanding of your customer journey and other important metrics.
For instance, you might want to know where you are losing customers during the checkout process. You might be interested in trends in payment types. Or, you might need to know whether your ad campaigns are working, and how many customers are converting from ads.
Both the Amazon platform, and DTC sites, provide access to these metrics. Understanding your customers, your buyer journey, and their experience with your shop can help you to improve your experience, and boost sales. If you know which messaging, which ads, and which products are resonating with your buyers, you can optimize for success.
Ultimately, the biggest driver for eCommerce expansion is capital. If you're outgrowing Shopify, or another online selling platform, then you need to look elsewhere. Capital is critical for starting a new venture with your business, whether investing in a DTC store or growing onto a new marketplace.
At Yardline, our Capital Advances can provide you with up to $1 million in funding for growth. Our Seller Success Team understands the eCommerce space, and the challenges within it. Our experts are here to help you understand where to invest your capital for maximum growth.